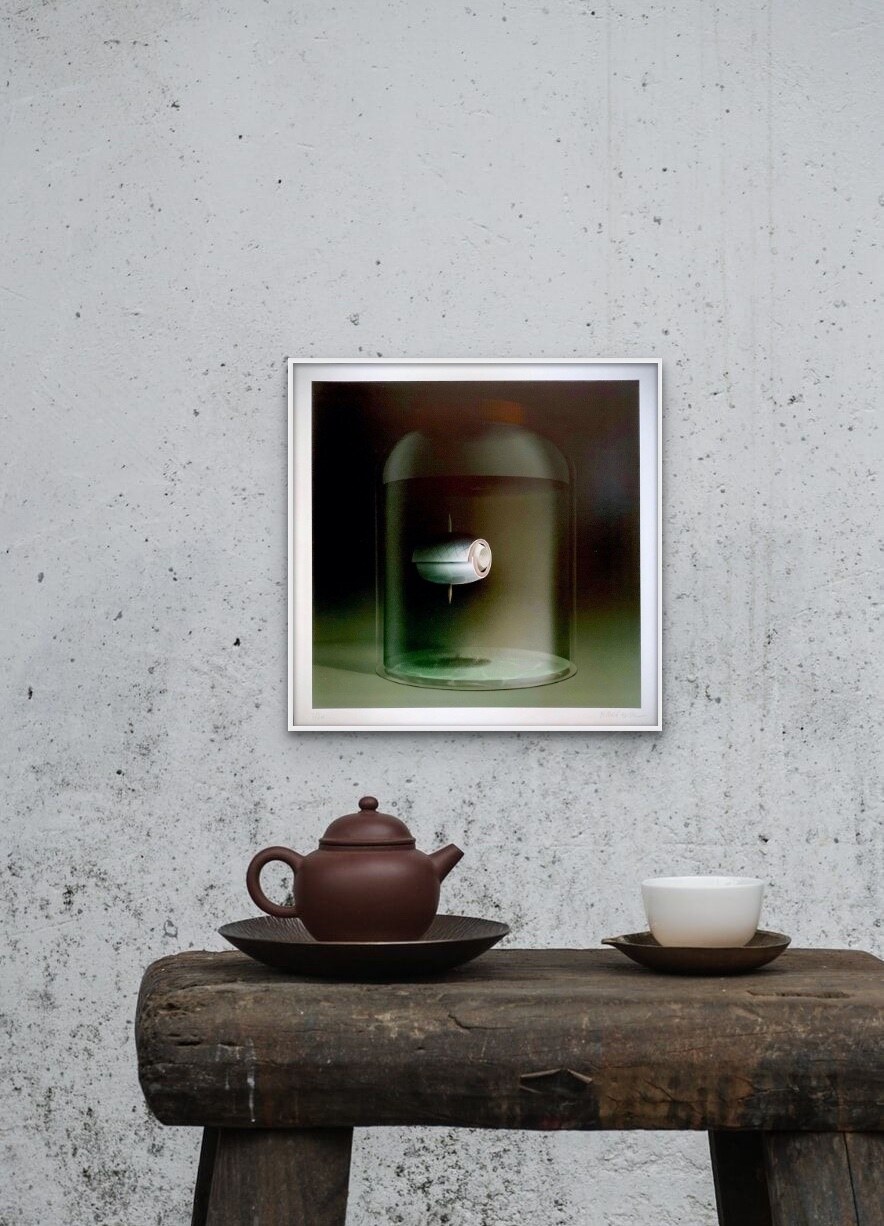 Narazaki Rollmops
Andre Brik, 2020

New Media, Edition of 20
40 x 40 x 0 cm
Pigment on Paper

€ 160
incl. worldwide shipping
incl. 14 day money-back guarantee
incl. certificate of authenticity
About the artwork
Narazaki Rollmops
Some blocks away from the house where I grew up, there was a very simple grocery store called Narazaki. Managed by very nice Japanese immigrants, Narazaki sold everything.
Narazaki was also a bar where, at the end of the day, blue-collar workers swallowed doses of 'pinga', the Brazilian sugarcane eau de vie.
Many of them were immigrants from Germany, Ukraine, Poland, and Russia. So, to have their drinks as they used to in Eastern Europe, there were Rollmops.
For a 5 year kid, a big glass jar on the counter full of fish skins wrapping an onion and closed with a toothpick was something that caught the eye. It was like watching a bizarre aquarium or looking at a snake on formaldehyde in science class.
Narazaki still exists in the same place. But the current owners no longer speak with the lovely foreign accent. The wooden floor, ceiling, and counters were replaced by synthetic materials.
They may even still have a glass jar of rollmops.
But it's not the same thing.
About the artist
Andre Brik
Andre Brik was born in Curitiba, Brazil in 1972. Architect, illustrator, and art director, he also studied typography and graphic design at the School of Visual Arts and at Parsons School of Design in New York.
In his works, you can find some of the 1920's Plakatstil graphic style and polish posters with their clean lines and flat contrasting background colors, their visual puns and wit, and subtle irony. There is also nonsense, humor, counterculture, dada, surrealism, and punk rock. The ideas are born from the observation of the elements of everyday objects. Then the artist begins a long process of sketching to deconstruct and recombine shapes, colors, and meanings. Finally, a careful selection of outcoming ideas is chosen to be digitally developed, painted, and finished as a graphic art illustration.
---
More artworks by Andre Brik from this series
---