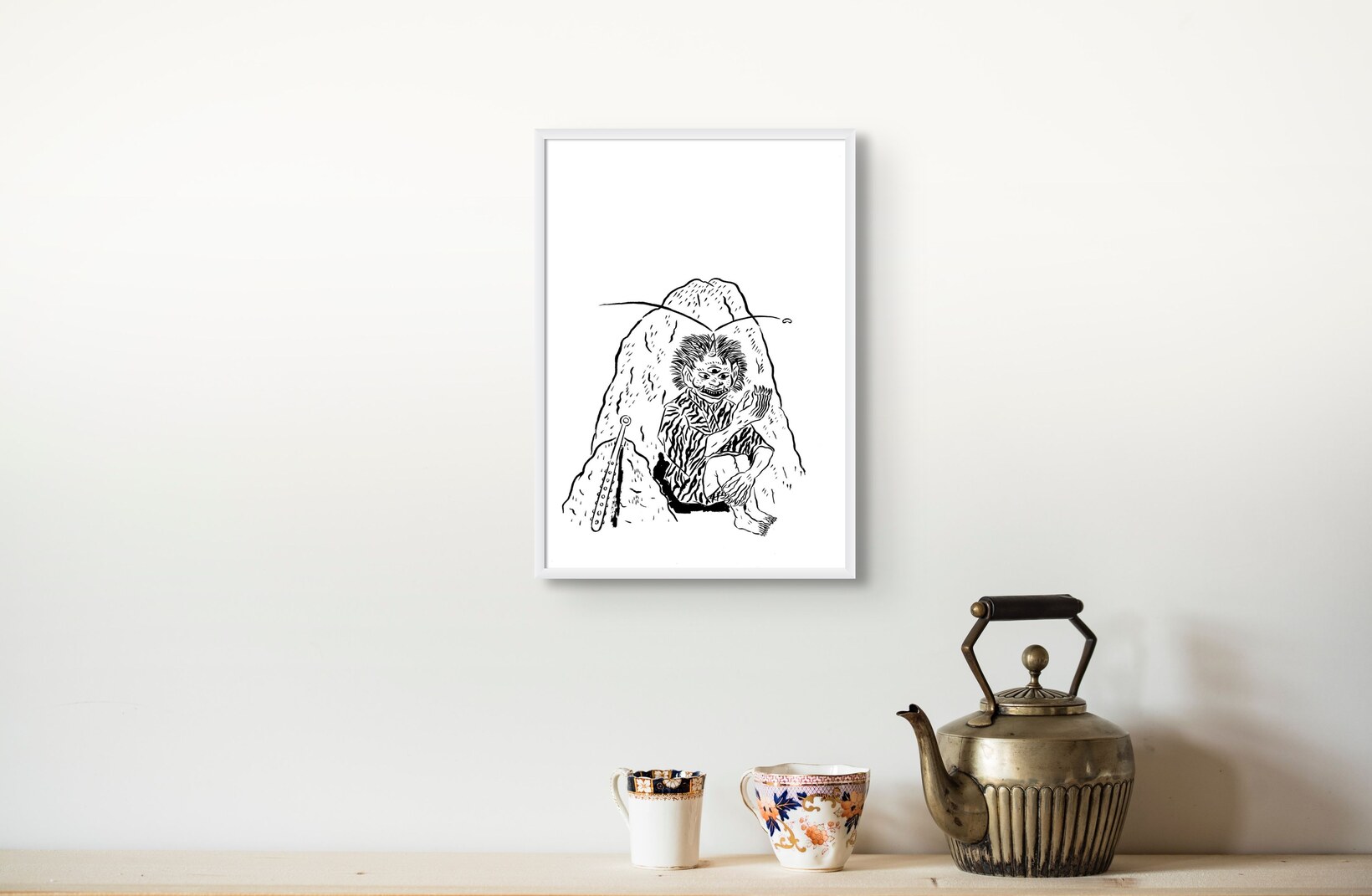 Oni 鬼
Vinz Schwarzbauer, 2018

Drawing
21 x 29 x 0 cm
Ink on Paper

€ 400
incl. worldwide shipping
incl. 14 day money-back guarantee
incl. certificate of authenticity
About the artwork
Oni 鬼
Oni (Japanese 鬼) are Yōkai from Japanese mythology. The conception ranges from the simple neutral spirit of a deceased person to grimly stupid ogre-like fiends to abysmally evil merciless demons.
Iconographically, Oni trace their origins to the Indian Rakshasa. They are usually depicted as ugly giant creatures with sharp claws, wild hair and one or two horns on their heads. Mostly they are human-like, but sometimes they have an odd number of eyes or supernumerary fingers and toes. Their skin is of any colour, but usually red, blue or green. Their fierce appearance is accentuated by a loincloth made of tiger skins and an iron-armed club (金棒, kanabō) that they carry. This image led to the expression Oni ni Kanabō (鬼に金棒), literally "an oni with an iron club", meaning "invincible". [Source: Wikipedia]
About the artist
Vinz Schwarzbauer
Vinz Schwarzbauer (*1987 in Graz, Austria) graduated from the Academy of Fine Arts Vienna in 2014. In 2011/12 he spent a year in Hamburg with the Art School Alliance Scholarship at the University of Fine Arts Hamburg (HFBK). He lives and works as a comic artist and illustrator in Vienna, Austria.
---
More artworks by Vinz Schwarzbauer from this series
---