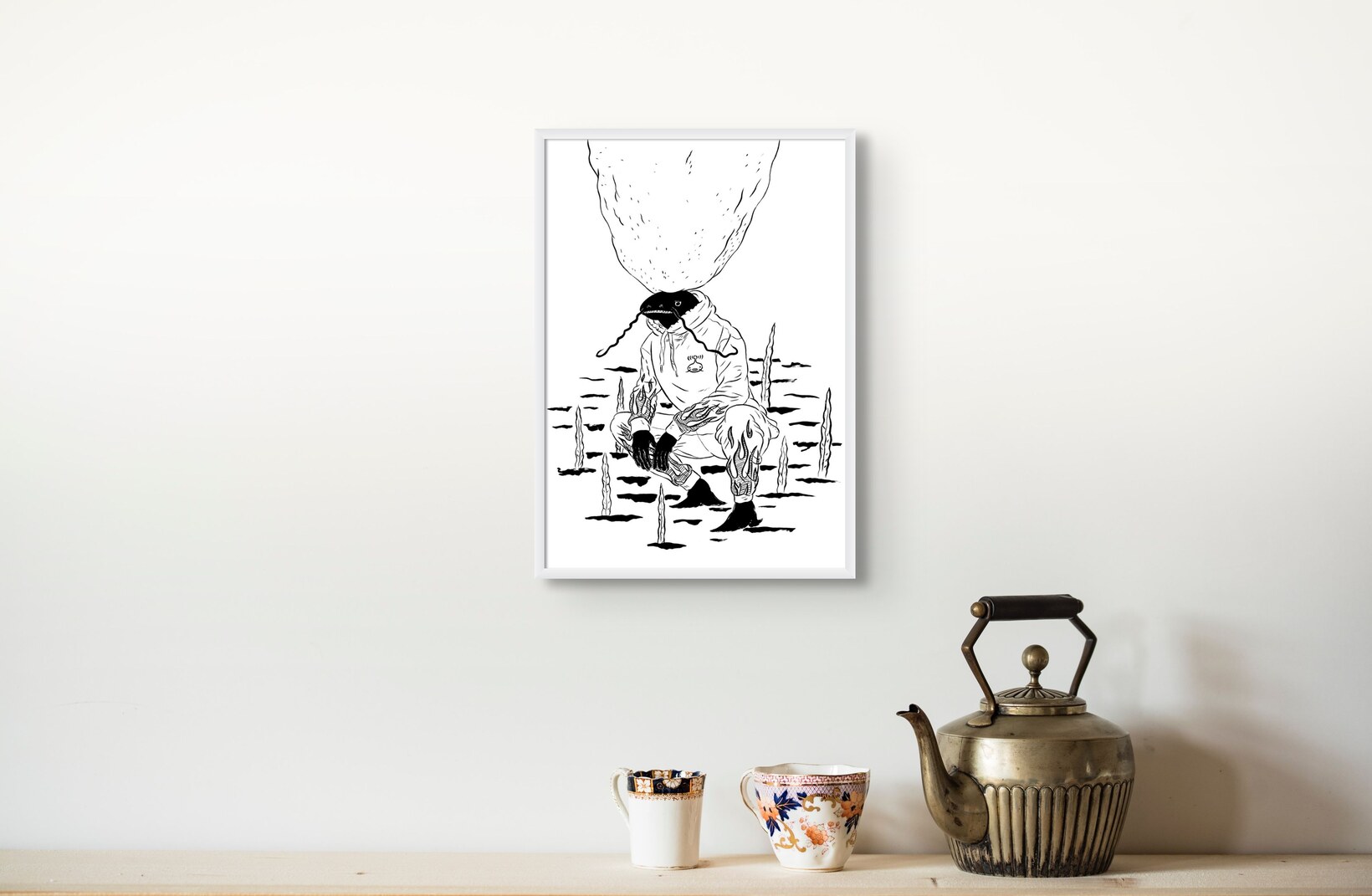 Namazu-e 鯰絵
Vinz Schwarzbauer, 2019

Drawing
29 x 42 x 0 cm
Ink on Paper

€ 690
incl. worldwide shipping
incl. 14 day money-back guarantee
incl. certificate of authenticity
About the artwork
Namazu-e 鯰絵
Namazu-e (鯰絵) refers to a group of Japanese woodblock prints produced in the aftermath of the severe earthquake in 1855. They show a mighty Ōnamazu, i.e. a large catfish, which served to illustrate the cause of the earthquake.
The Ansei earthquake of 1855 caused great damage and resulted in many deaths. The humorous writer Kanagaki Robun and the painter Kawanabe Kyōsai came up with the idea of publishing a series of catfish images with reference to the earthquake, which became a brilliant idea and shed light on how the Japanese, who were used to earthquakes and tsunamis, dealt with such disasters. However, in order not to be held accountable by the government or society, these namazu-e were circulated without indicating the authors.
In terms of content, several variants can be distinguished. On a number of sheets, the giant catfish can be seen being beaten by the angry residents. However, the catfish also appears in personalised form, as an apothecary, a husband, a Kabuki actor. The incipient worship of the catfish at the Kashima shrine is also a theme.
It is also typical that the pictures are accompanied by texts, often surrounded by sayings of the people concerned, who also see the catfish in a positive light. Thus the catfish in the Yoshiwara picture says: "I am quite happy that courtesans are sitting on me. Happy!" Or a guest says, "Because of this catfish, I lost six coins of 100 sen. For that, I want to kill it and eat it." The positive portrayal goes back to the fact that the large-scale destruction of the capital made it necessary to rebuild, which on the one hand brought about a redistribution of wealth from rich to poor, and on the other hand also made the new pleasure quarters more affordable.
In terms of art history, there is a connection with the Ōtsu-e, in particular the motif of the hyōtan namazu (gourd catfish) - illustrations in which a monkey or man defeats a giant catfish with his gourd. Iconographically, these in turn refer to Chinese depictions in which a deity or an immortal - sometimes equipped with a gourd - rides a fish or dragon to prevent it from making the earth tremble. The hyōtan-namazu images represent a metaphor that through personal effort one can accomplish even seemingly impossible tasks. [Source: Wikipedia]
About the artist
Vinz Schwarzbauer
Vinz Schwarzbauer (*1987 in Graz, Austria) graduated from the Academy of Fine Arts Vienna in 2014. In 2011/12 he spent a year in Hamburg with the Art School Alliance Scholarship at the University of Fine Arts Hamburg (HFBK). He lives and works as a comic artist and illustrator in Vienna, Austria.
---
More artworks by Vinz Schwarzbauer from this series
---