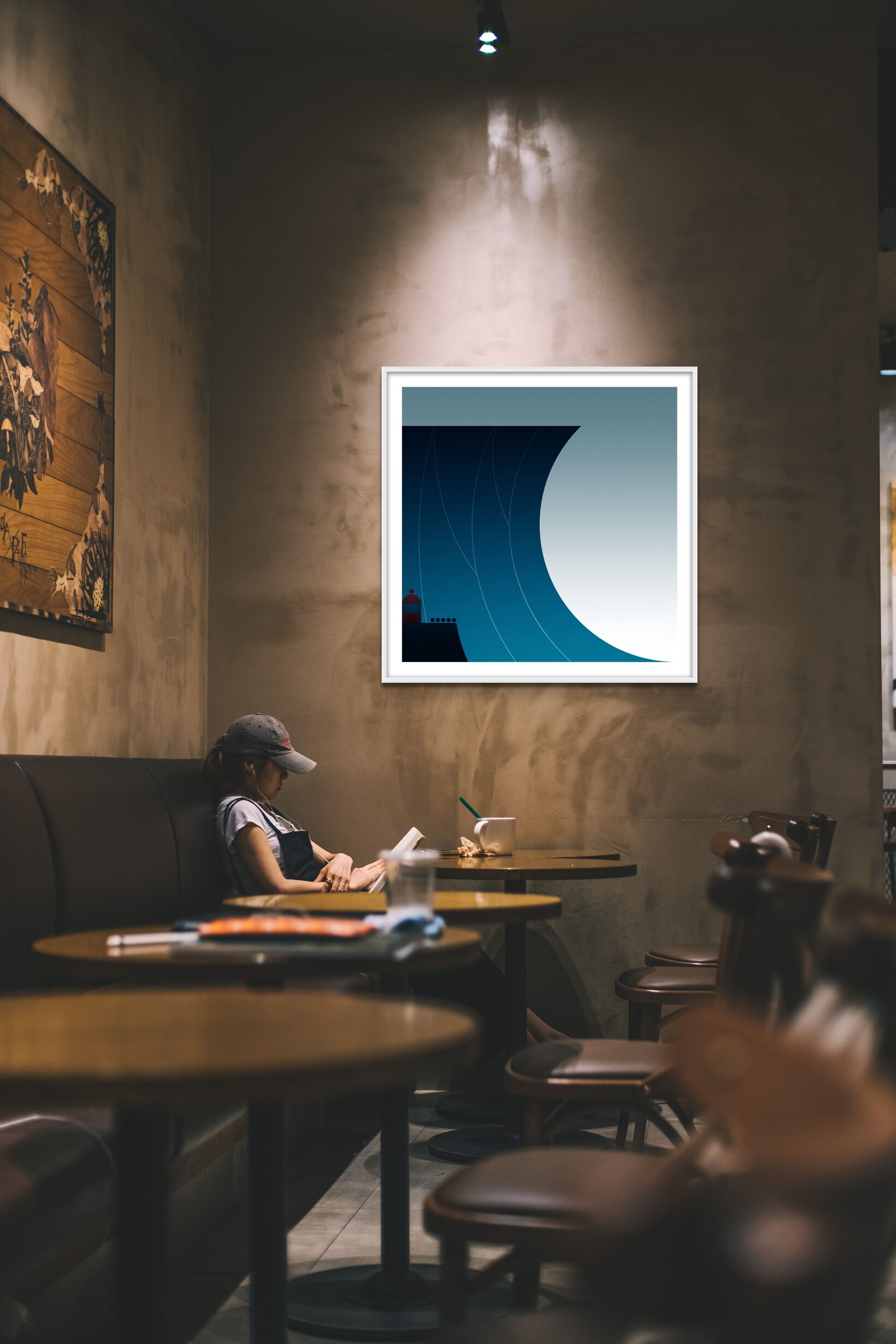 Nazaré (surf spot series)
Andre Brik, 2021

New Media, Edition of 10
90 x 90 x 0 cm
Pigment and Vector on Paper

€ 352
incl. worldwide shipping
incl. 14 day money-back guarantee
incl. certificate of authenticity
About the artwork
Nazaré (surf spot series)
Nazaré is the mecca of big riders.
This is the biggest wave on the planet, a surfable tsunami that breaks at Praia do Norte in the small village of Nazaré, Portugal.
Formed by an underwater canyon, these monstrous waves rise right next to a cape crowned by a small lighthouse and a fortress built in 1577 from where dozens of people watch the bravest surfers in the world drop these mountains of water.
This big wave iconic surf spot impresses with its beautiful and frightening aspect, both for its size (the surfer looks like a small dot on the blue wall), as well as for the foam veins that rise towards the wave lip (its summit).
Amazingly, and fortunately, no one ever died surfing the Nazaré tsunami.
About the artist
Andre Brik
Andre Brik was born in Curitiba, Brazil in 1972. Architect, illustrator, and art director, he also studied typography and graphic design at the School of Visual Arts and at Parsons School of Design in New York.
In his works, you can find some of the 1920's Plakatstil graphic style and polish posters with their clean lines and flat contrasting background colors, their visual puns and wit, and subtle irony. There is also nonsense, humor, counterculture, dada, surrealism, and punk rock. The ideas are born from the observation of the elements of everyday objects. Then the artist begins a long process of sketching to deconstruct and recombine shapes, colors, and meanings. Finally, a careful selection of outcoming ideas is chosen to be digitally developed, painted, and finished as a graphic art illustration.
---
More artworks by Andre Brik from this series
---