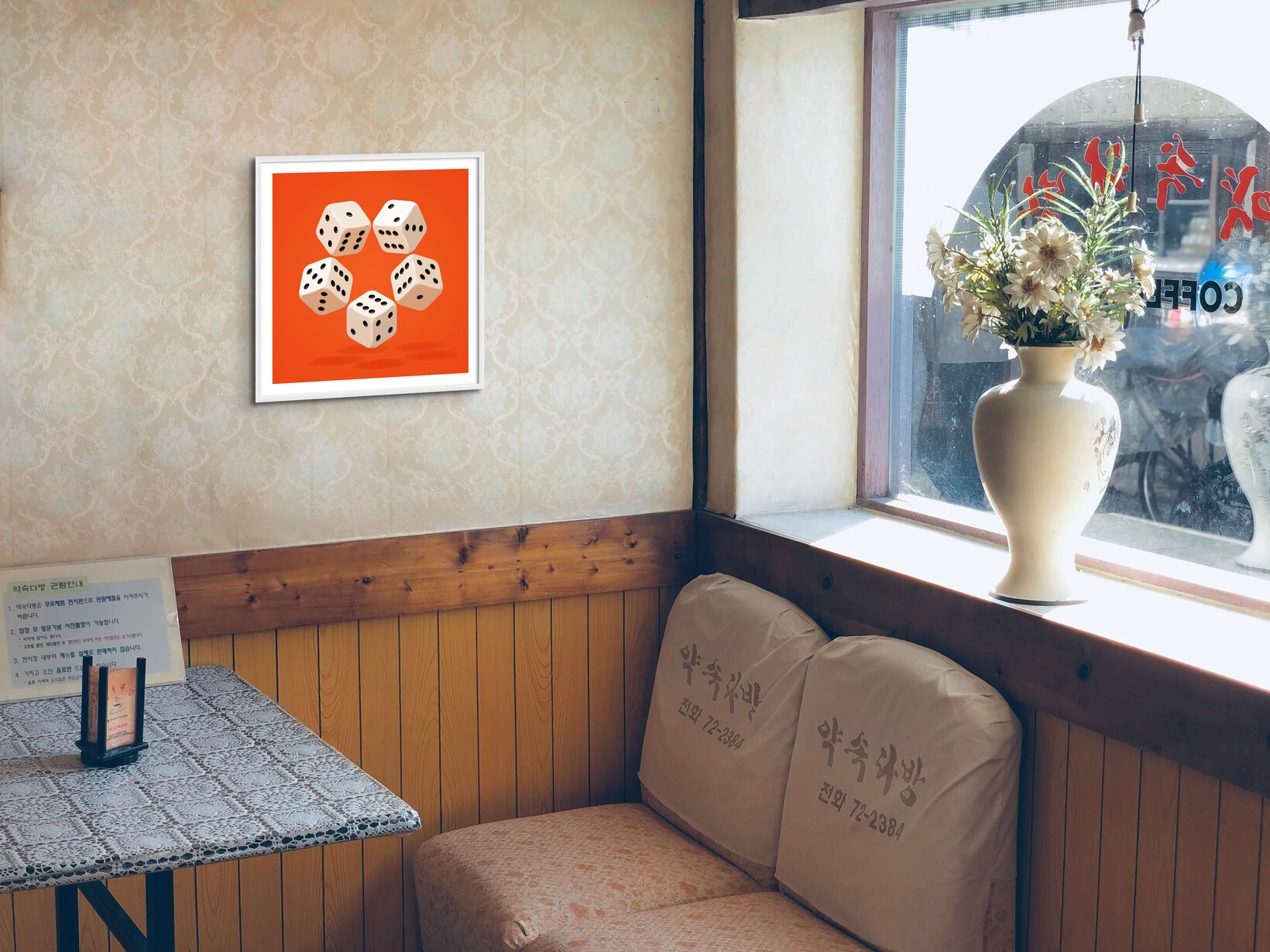 Five Dice Starry Nights
Andre Brik, 2021

New Media, Edition of 20
60 x 60 x 0 cm
Pigment and Vector on Paper

€ 360
incl. worldwide shipping
incl. 14 day money-back guarantee
incl. certificate of authenticity
About the artwork
Five Dice Starry Nights
As far as I remember, my parents liked to go out at night many times a week.
I was about 6 or 8 years old then, so couldn't be home alone, but didn't have a nanny either.
So when they were out, I slept at my grandma's.
My grandmother lost too many people during the war and maybe that's why she could be a little bit moody and resentful at times.
But not with me.
She was always kind, took care of me with great affection and treated me like a prince when I was sleeping over at her house. First, she cooked me a delicious meal. Then dinner came out and dice came in. She was not in the habit of watching TV so we spent hours playing Yam until I got sleepy.
Yam, Yahtzee, Yatzy, Kniffel, General or simply 'dadinhos' (little dice in Portuguese) is a clever adaptation of a poker game using common dice.
At that time, I didn't realize how important that was to both of us. Grandma and grandson, keeping each other company, to the sound of five dice rattling in a glass cup.
About the artist
Andre Brik
Andre Brik was born in Curitiba, Brazil in 1972. Architect, illustrator, and art director, he also studied typography and graphic design at the School of Visual Arts and at Parsons School of Design in New York.
In his works, you can find some of the 1920's Plakatstil graphic style and polish posters with their clean lines and flat contrasting background colors, their visual puns and wit, and subtle irony. There is also nonsense, humor, counterculture, dada, surrealism, and punk rock. The ideas are born from the observation of the elements of everyday objects. Then the artist begins a long process of sketching to deconstruct and recombine shapes, colors, and meanings. Finally, a careful selection of outcoming ideas is chosen to be digitally developed, painted, and finished as a graphic art illustration.
---
More artworks by Andre Brik from this series
---